"Customizing treatment specific to the individual's needs."
Health practices of the 21st century scarcely resemble those of your parents' generation. Although one-size-fits-all protocols for medicine may still dominate, clients now want more. They want integrative, individualized, client centered restorative practices to help return them to health
Often, to truly help others heal, the doctor has to heal himself. Dr. Nagula's health journey has followed this path, one that he can help you master also.
The From Doctor to Patient podcast has been running for 90+ episodes, interviewing some of the leading experts in health and wellness. 
Wall Street Journal's Best Selling Author
IN 2014, DR. NAGULA HEARD THE WORDS NO ONE EVER WANTS TO HEAR, 'YOU HAVE CANCER'.
He embarked on his own treatment journey, which saved his life. Get this book to learn his healing approach.
To know what you know, and what you do not know, that is true knowledge."
From Doctor To Patient
with Dr. Diva Nagula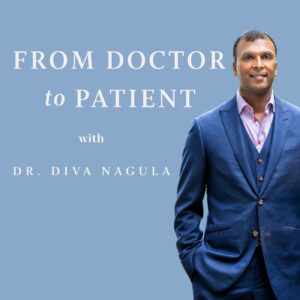 Get instant access to this e-book!
Get access to transcripts of all our episodes organized by category and topic to make it easy for you to search for the information you need. We hope this helps expand your horizons to the systems beyond traditional medical practices and helps you discover unique holistic health practitioners and techniques from around the globe.